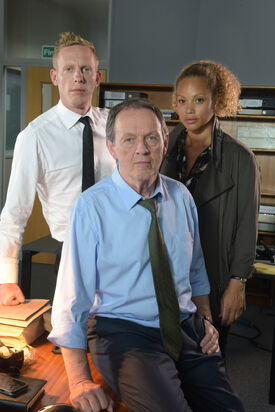 Lewis is a British detective drama television series that aired between 2006 and 2015. It stars Kevin Whately, Laurence Fox and Angela Griffin as detectives Robert Lewis, James Hathaway and Lizzie Maddox, with Griffin joining the show in 2014. The series follows DI Lewis and DS Hathaway (who was later promoted to DI in the eighth series) in the idyllic city of Oxford, as they try to solve the murders committed and catch the malicious culprit. Lewis later retires and Hathaway leaves the police force in the seventh series, but he decides to take his inspector's exams – after the advice of Jean Innocent, played by Rebecca Front – and passes with flying colours. Maddox, being his third sergeant, joins him in investigating into cases, and subsequently, Lewis jumps at the chance of rejoining the force after being offered a one-year contract from Innocent, disappointing Laura Hobson, his new girlfriend, played by Clare Holman.
Ad blocker interference detected!
Wikia is a free-to-use site that makes money from advertising. We have a modified experience for viewers using ad blockers

Wikia is not accessible if you've made further modifications. Remove the custom ad blocker rule(s) and the page will load as expected.